invite.life
Invitation & Guestlist - Manage your upcoming Event
Invitation management and guestlist management made easy with invite.life. Just on your fingertips, you can do the process fully integrated in one system. It takes you four steps to create your event-website, upload your guestlists, send the invitations and then just wait what happens on your guest list in the system. It does not matter if you are opening a restaurant, inviting to a press event, your own marriage or birthday party or the Christmas happening of your company. The invitation management of invite.life is the right choice for you.
Invitation and Guestlist Management
It takes only four steps for users of invite.life to have a fully featured invitation and guest list management. The system is usable with your web browser, so you do not need to download software in order to use invite.life for your event. The idea behind invite.life was to create a system for events like Christmas happenings, weddings, business-breakfasts or simple business openings or anniversaries. The time, when you send your invitations to your audience and ask them to reply via mail, phone, fax or even via postal service, is over. You stop being stuck in messy excel-sheets or post-it notes in your office. There is only one surface, which gives you the answer who was invited, you accepted your invitation, who declined it and who you might want to remind because there was no answer.
Save the Date
In the back end of invite.life - invitation and guest list management - you can also send out save the date emails or your invitation. The emails can be set up with individual salutations, to get as personal (and not spammy) to your audience as possible. There is also a pretty smart duplicates management and of course, the full system is working in responsive web design. So not only your invitations but also the whole process on the pre-filled out event website is usable for your guests on any device. This raises, of course, your quota of feedback, because people are not annoyed by your surface due to inappropriate behavior on different devices.
Take a View into invite.life
We used one of our test-events to give you an overview of a few sample screens inside the system. So you can even now see behind the scenes and decide if this is good for you.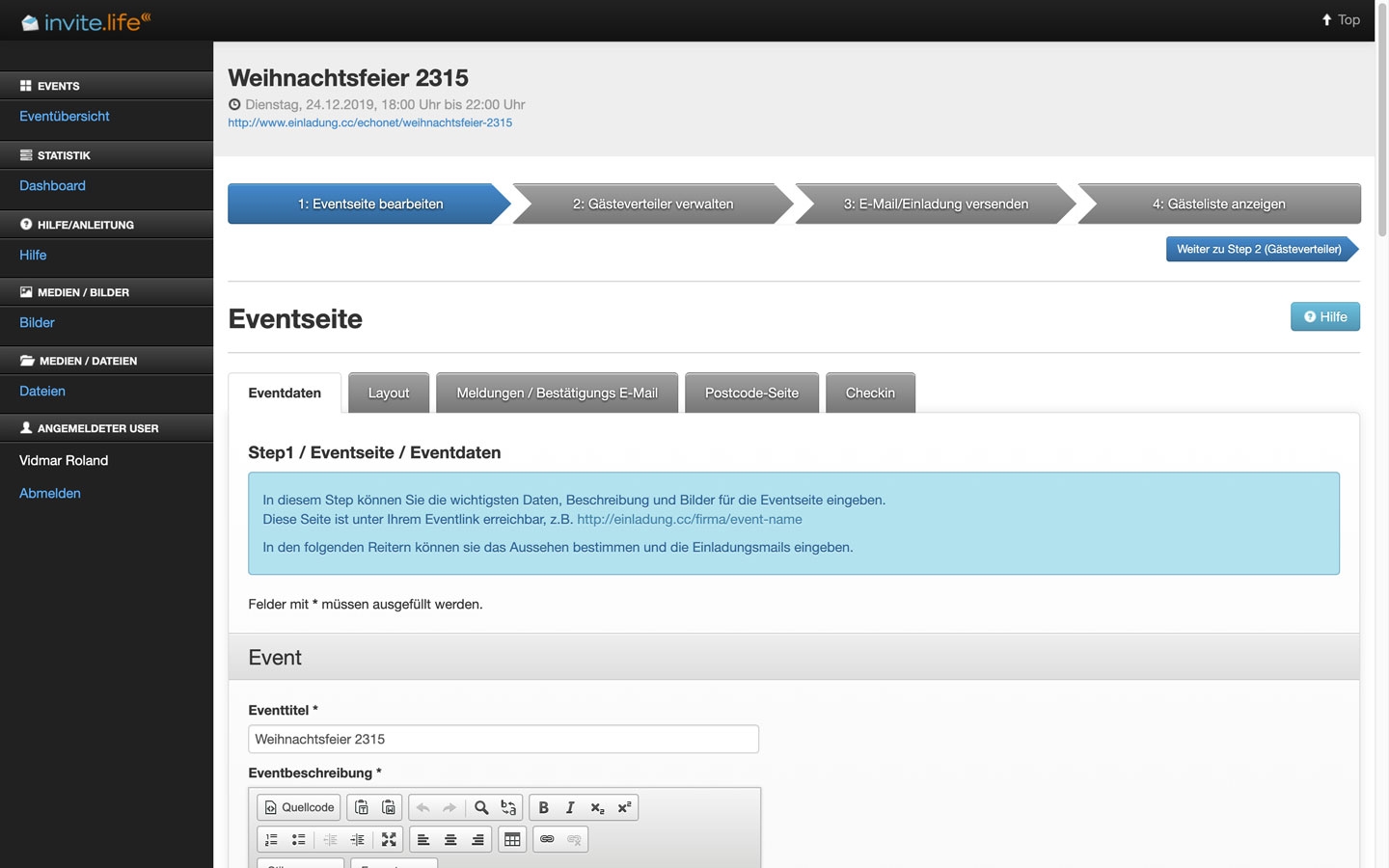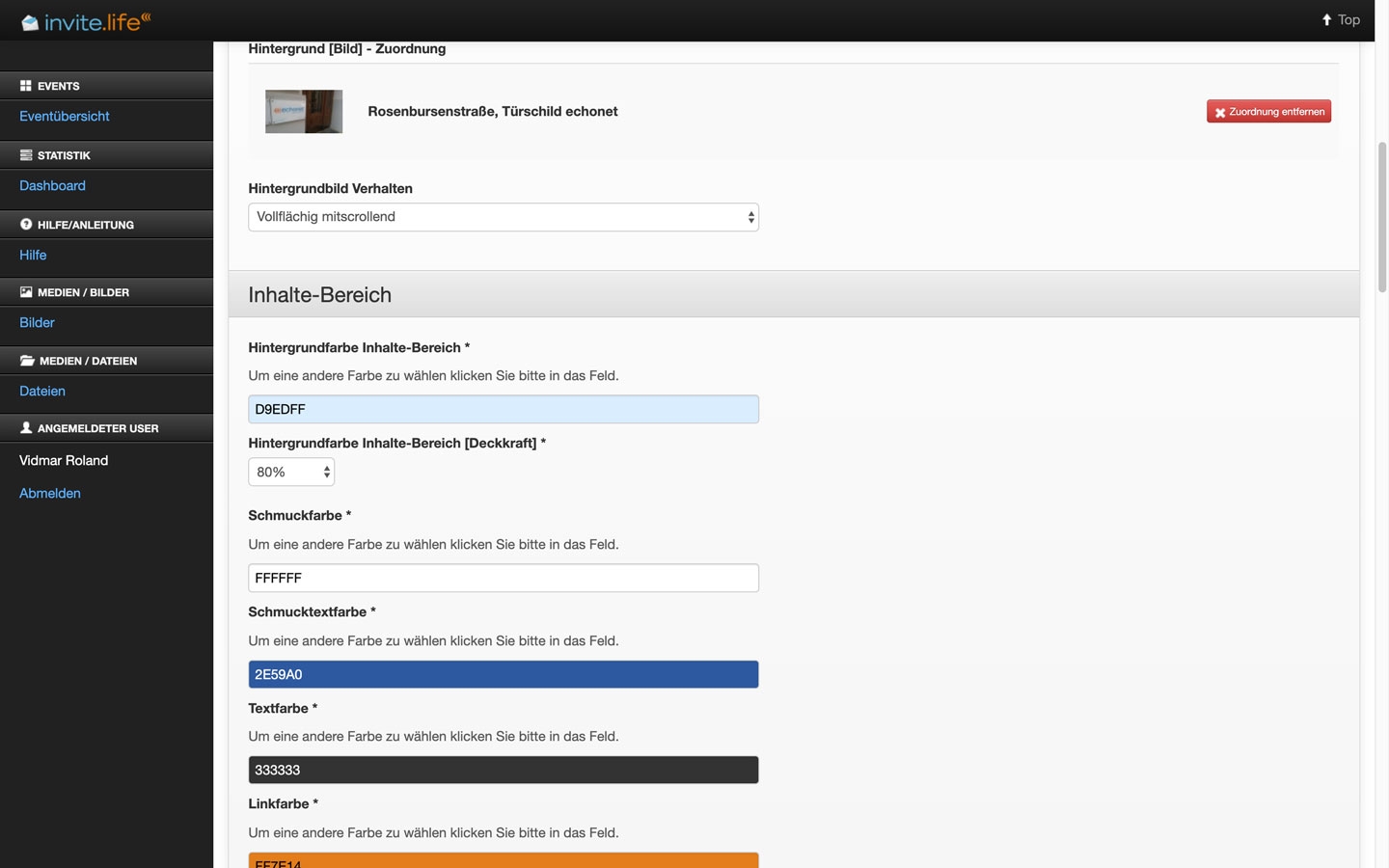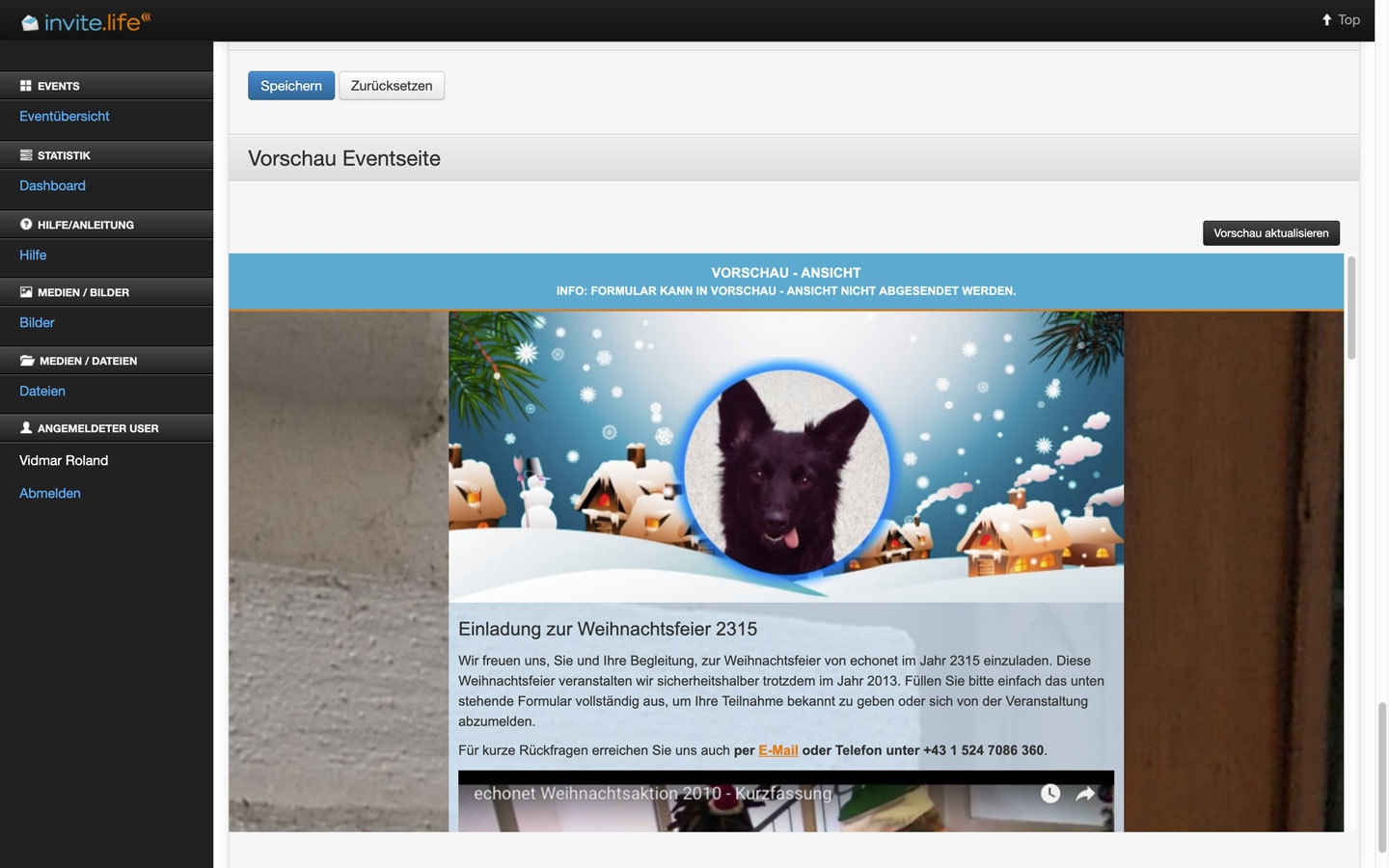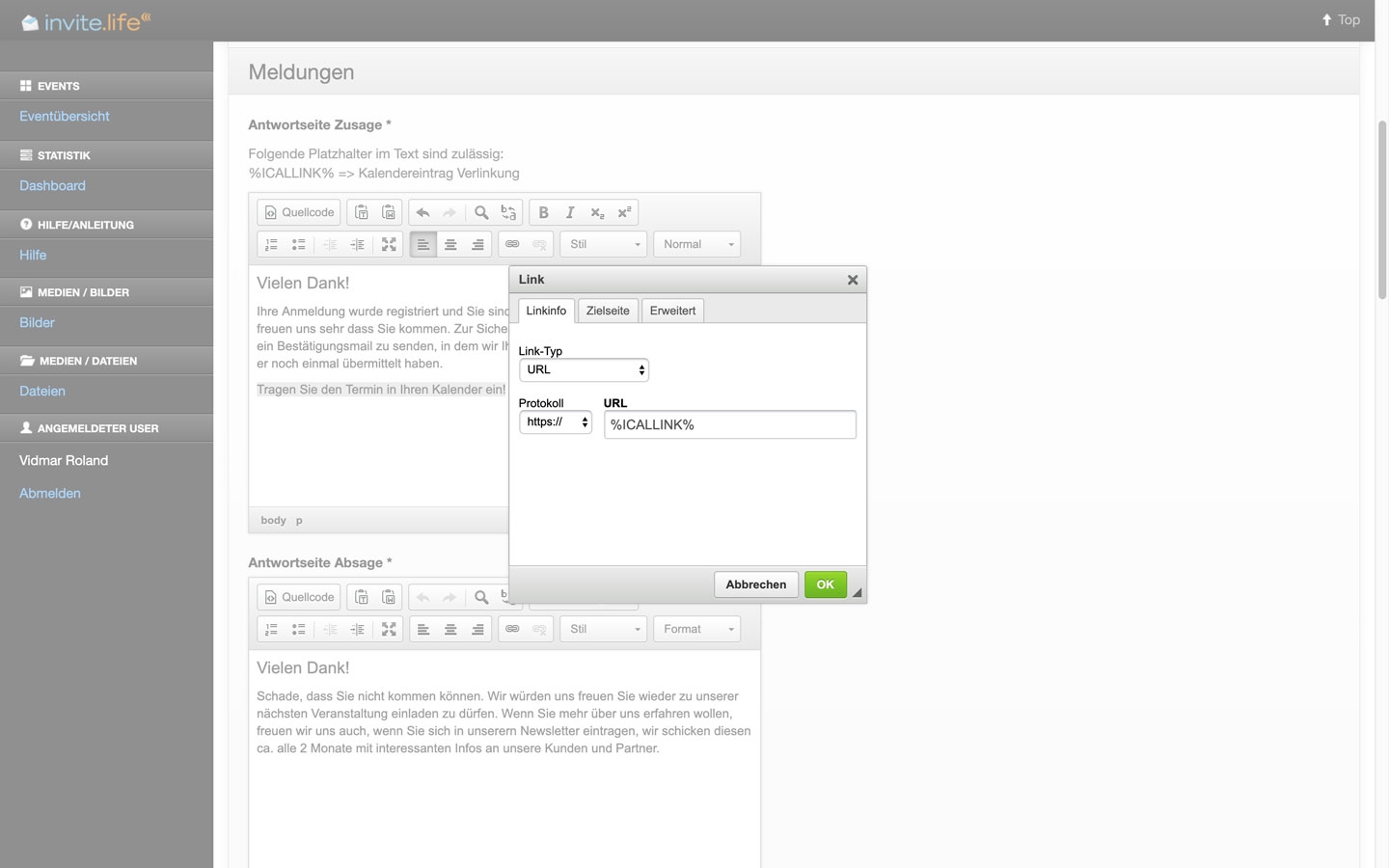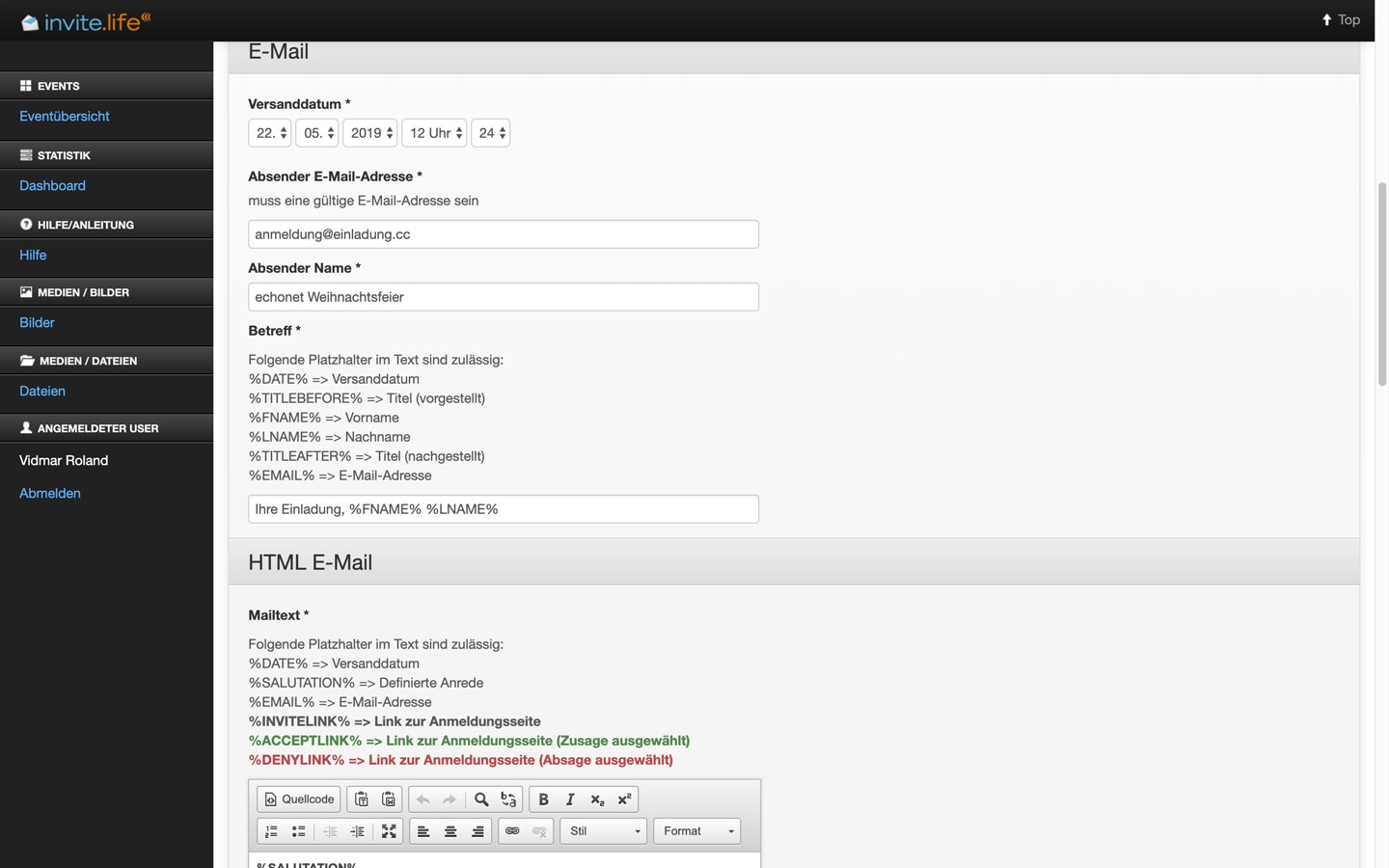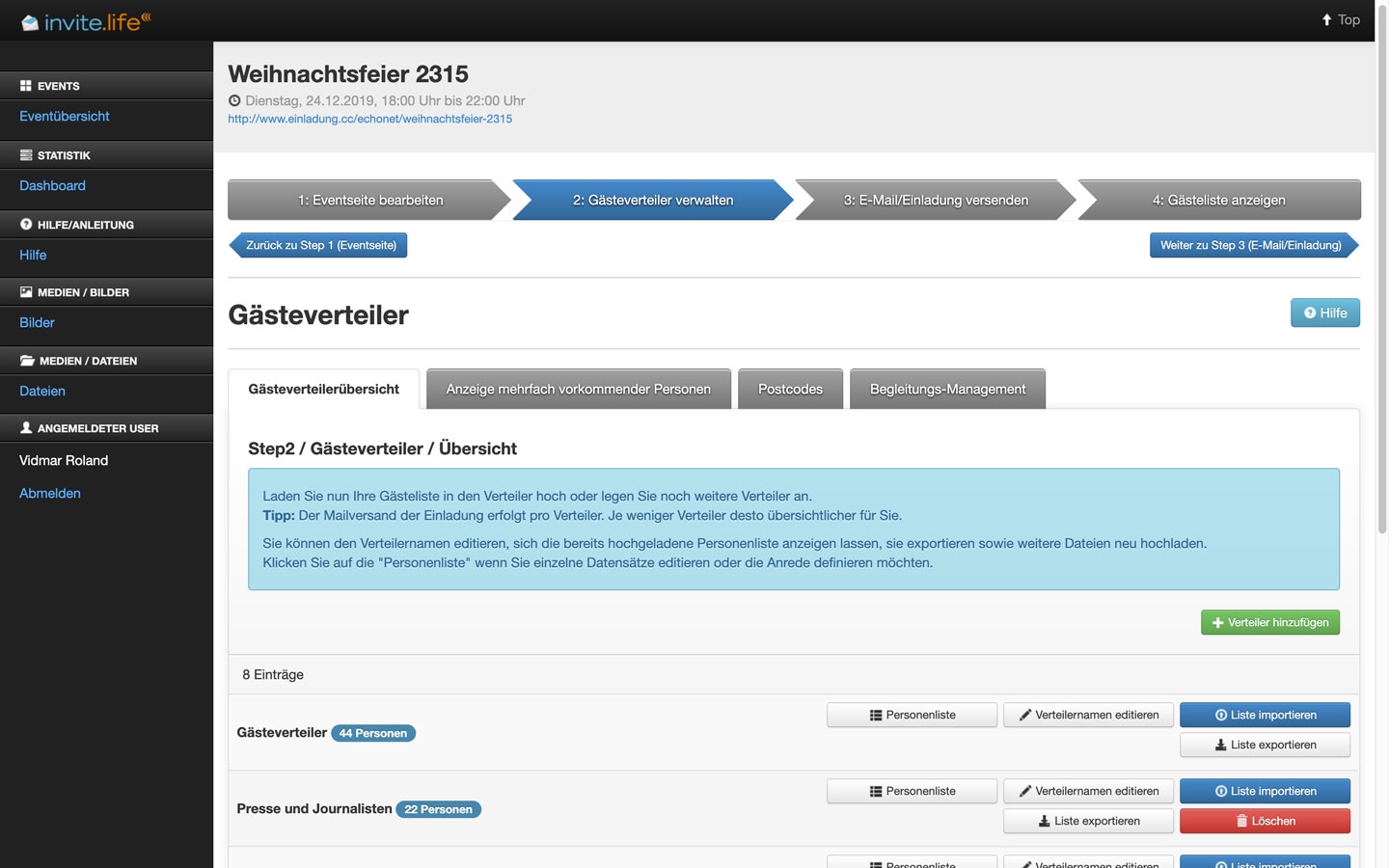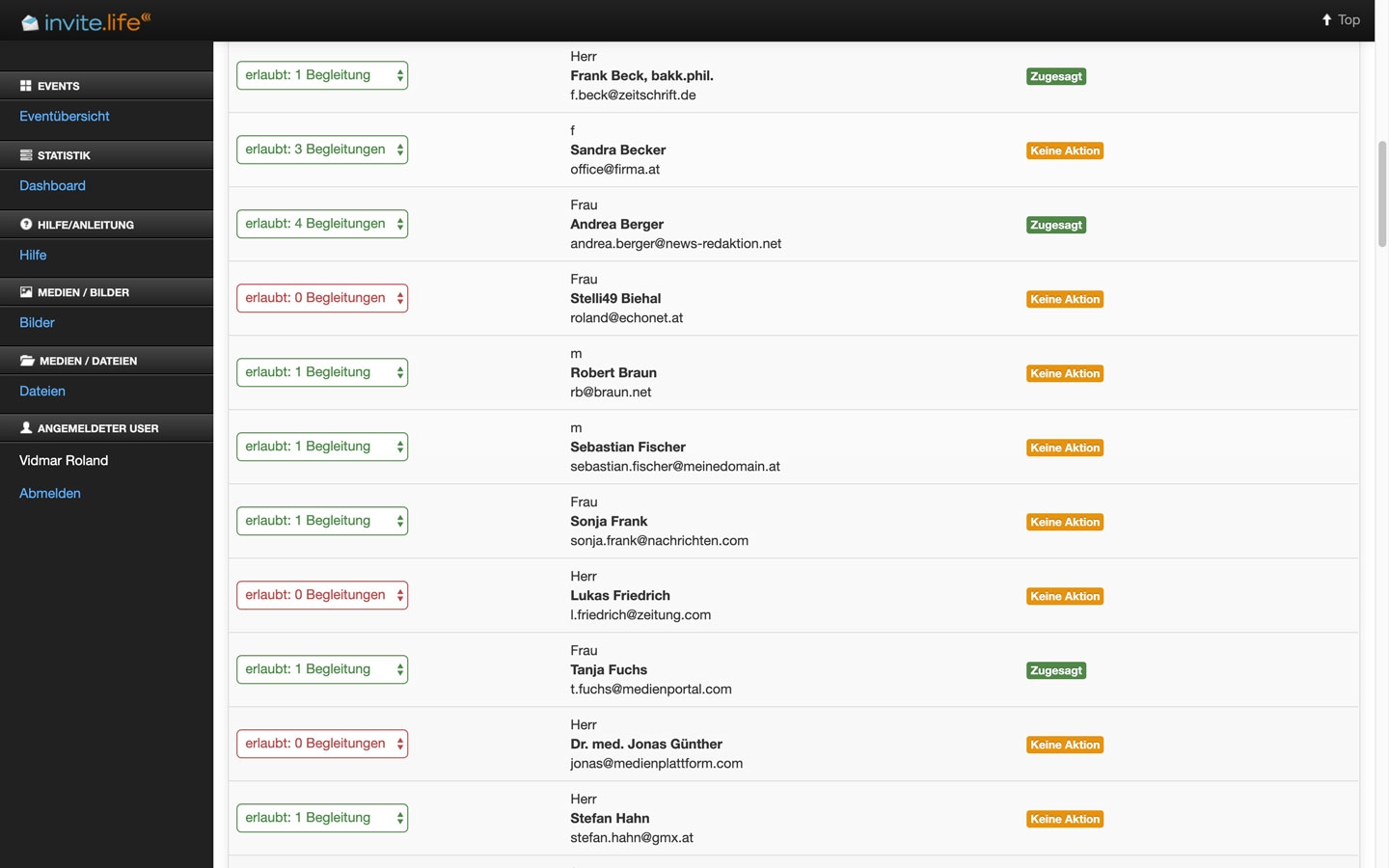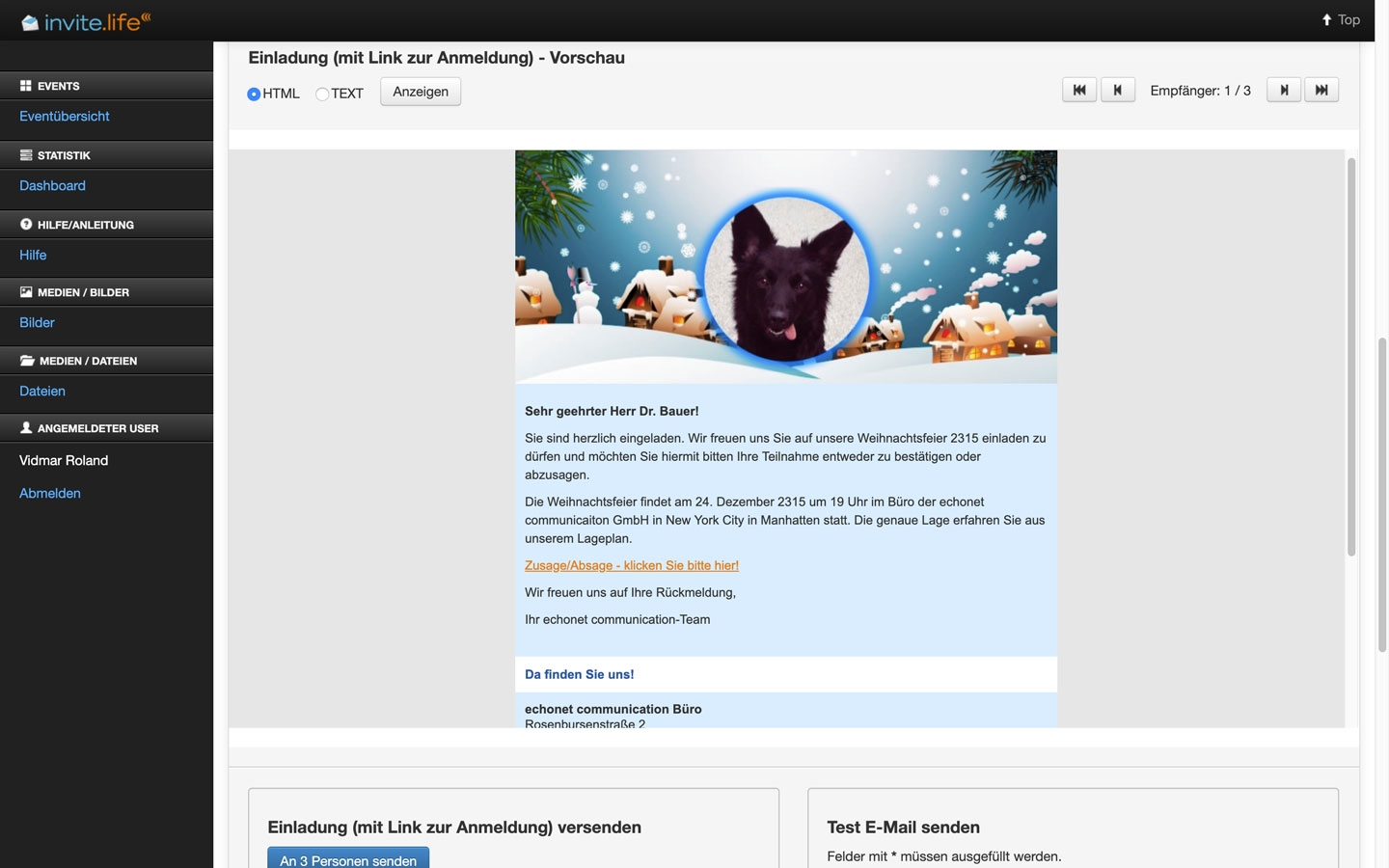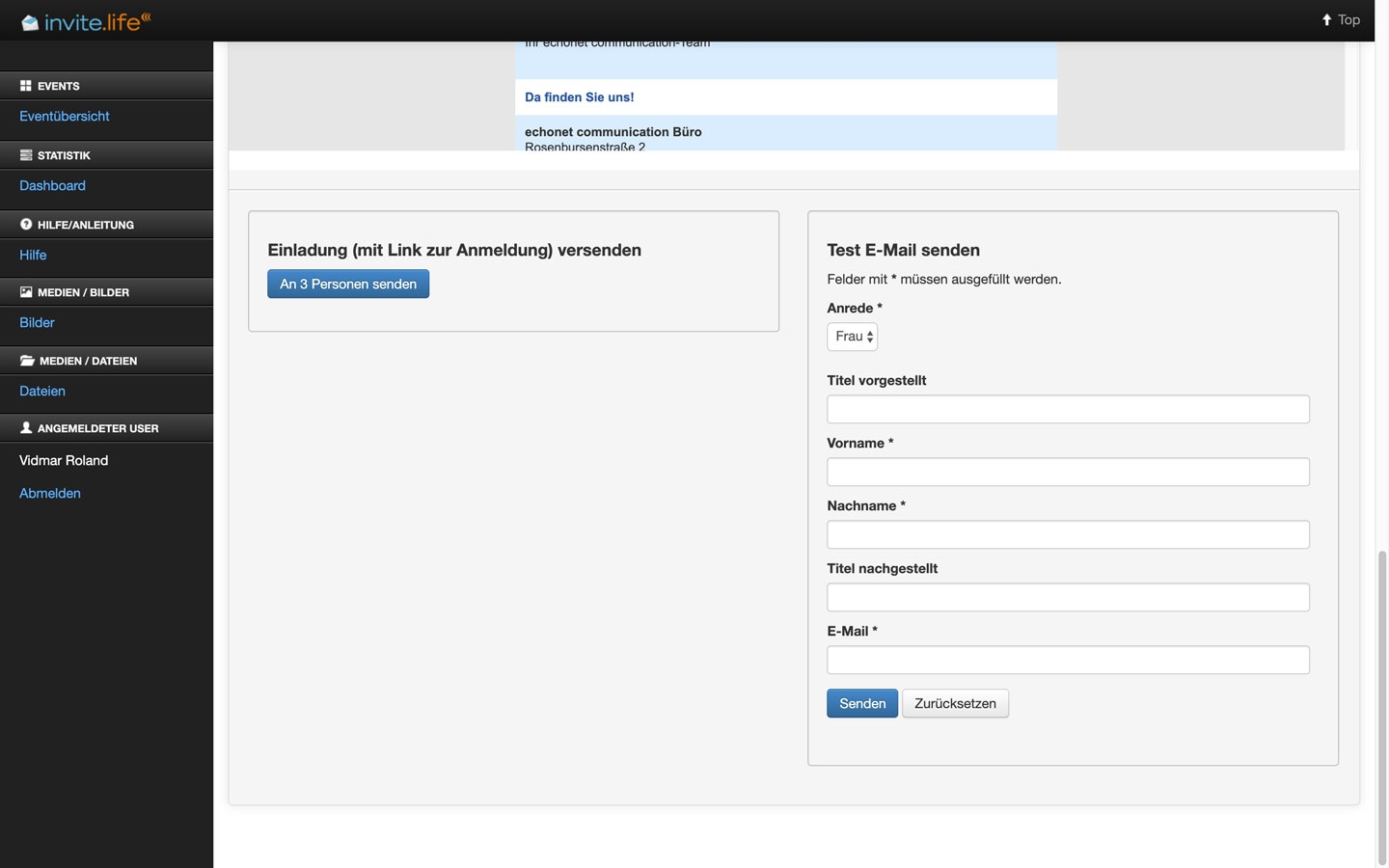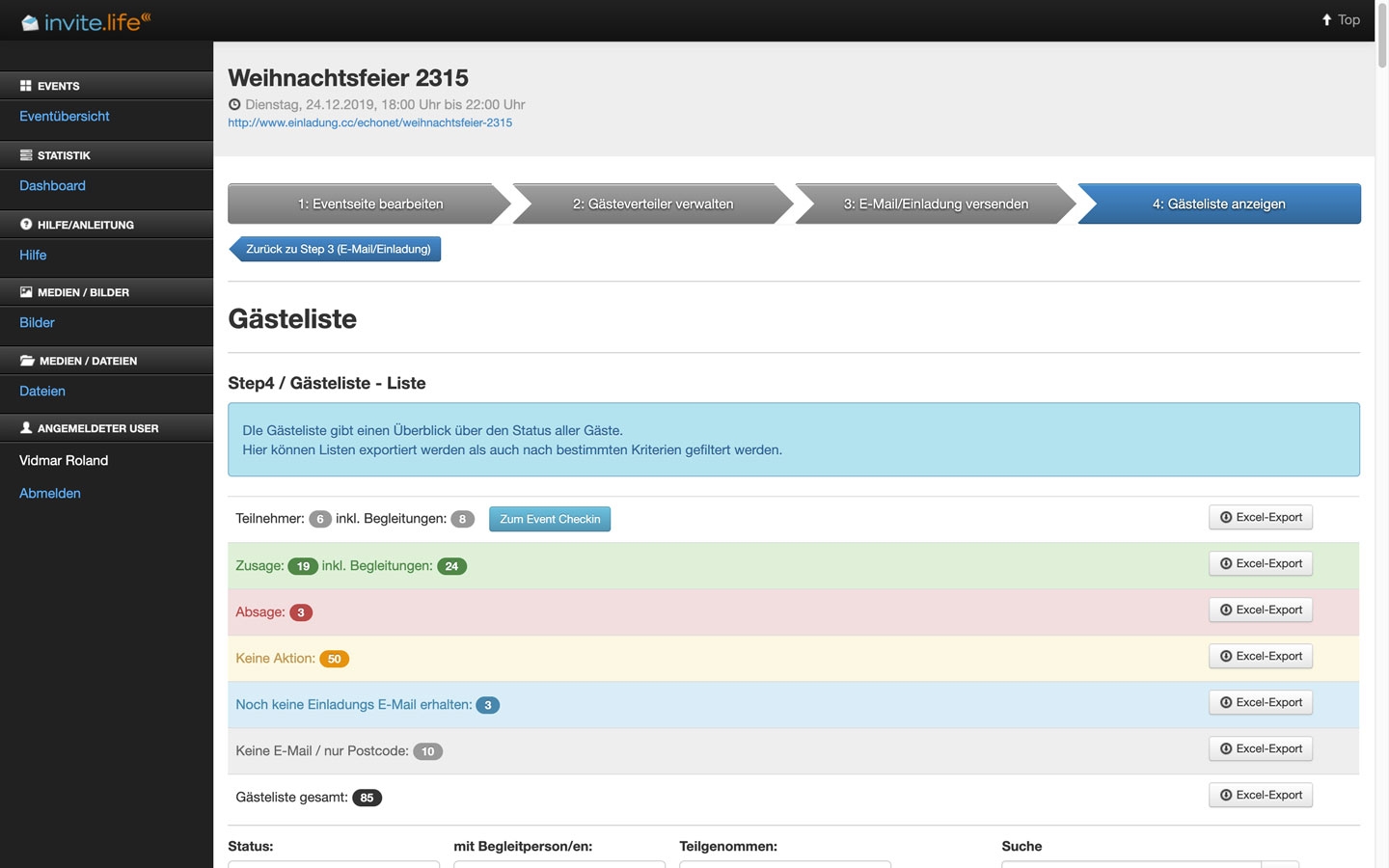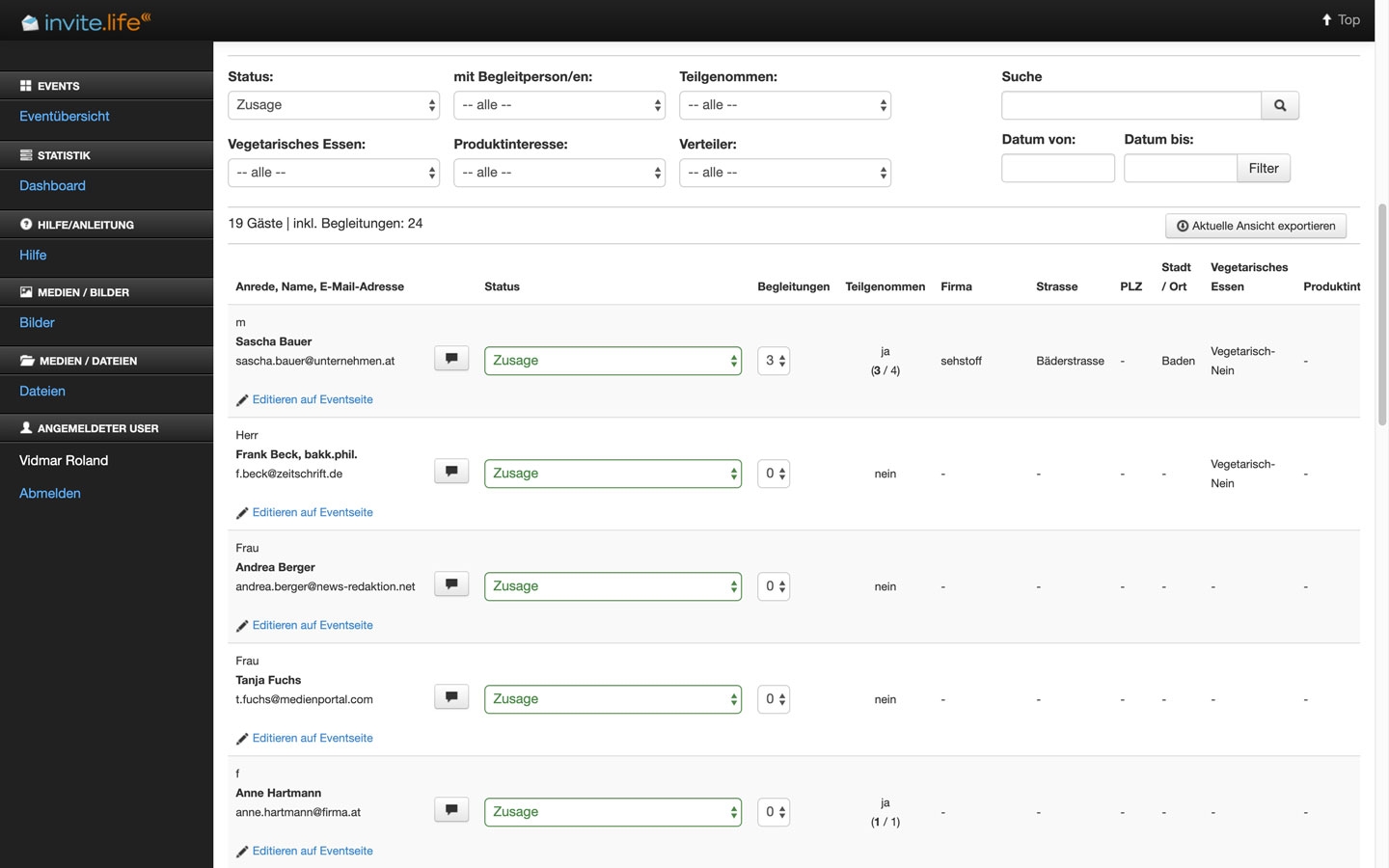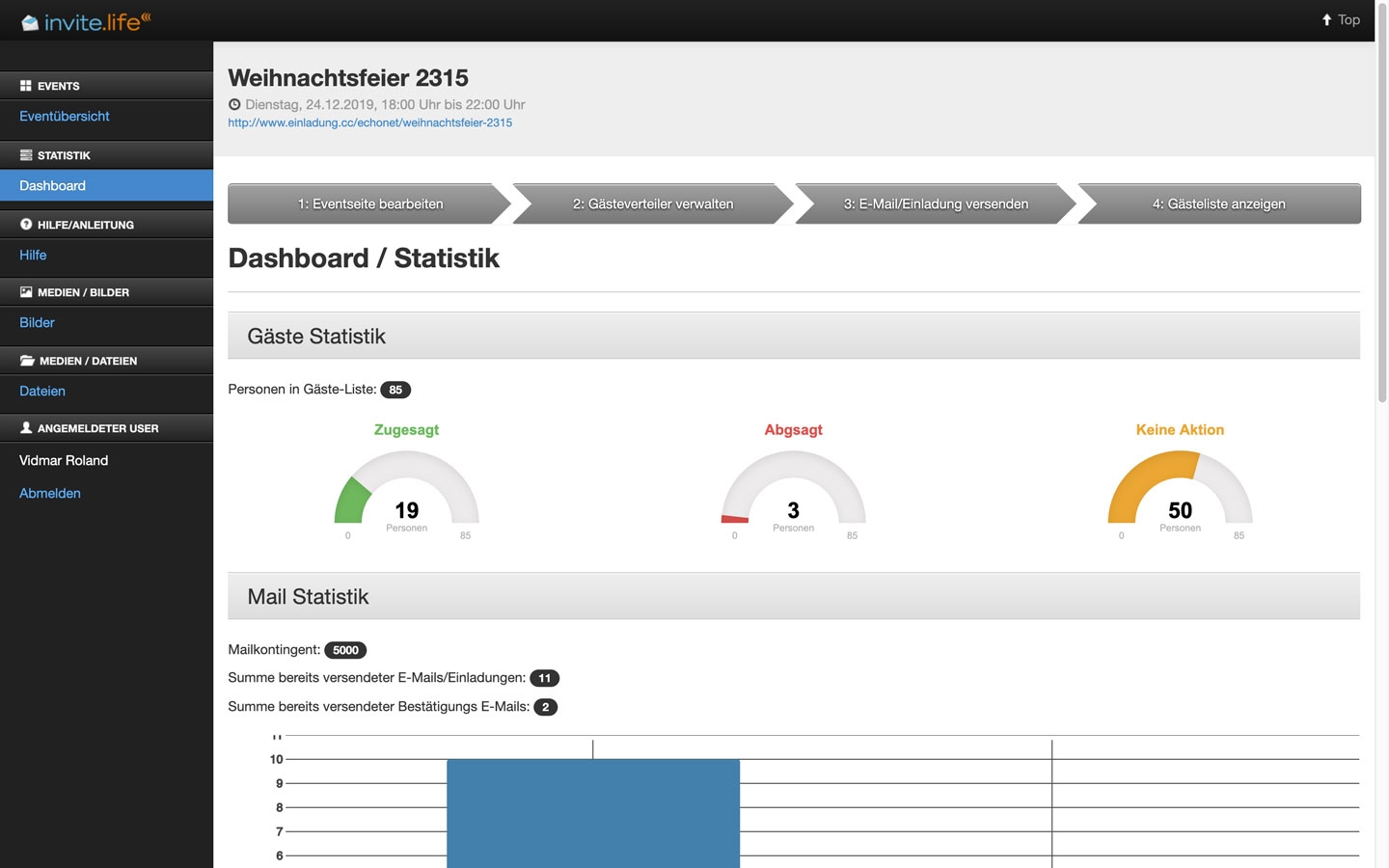 Your invitation and guest list management
Management of invitations, save the date emails, guestlists, attendees and an intelligent check for duplicates as well as a prefilled form on your event-registration website of course in responsive web design for all devices are the key features of invite.life. The system fulfills the major criteria for everyone who wants to invite guests to an event, but payment. So if you sell tickets for your event, invite.life might not be the right choice for you.
Mail Merge with personal Salutation
"Save the Date", Invitations and Reminder via Mail can be done with a personal salutation, also defined by gender. This makes your potential guests feel addressed personally instead of using annoying standard text concepts like "Dear Mr. / Mrs. Smith".
Pre-Filled Registration-Form
Every one of your guests receives a personalized message with a personalized link inside. By clicking the link in the invitation e-mail the guest reaches your registration website on invite.life, his information is even pre-filled - one click on accept, he's in.
Updates made by your Guests
If some of the information like name or address is outdated, your guests can update the information, so you get back a list of guests with actual data for your future needs. You do not want guests to be able to change the name? No problem, it is optional.
Live-View: Confirms, Cancellations
Inside the system, you have a live and continuously updated view of guests confirming your invitation or cancel it. So you always know on a click, how many guests you already have. And you also see when they reacted to your invitation mail with invite.life.
Intelligent Check of Duplicates
If you have a person on more than one guest list, the system takes the person as one only. The person only gets one invitation e-mail. But still, if you want to invite different people with the same e-mail, it is fine. Just in case you only know a general company-address.
Different Target Groups
Different guest groups can be addressed differently, so if you eg invite your customers with formal and your team members with a less formal salutation, you can. Have one list with "Dear Mr. Smith" and the other one with "Dear Lisa" - no problem.
Smart Preview
In order to be sure what you are going to send via e-mail, invite.life provides you the opportunity to see every single email in advance. You can click through the whole list of recipients, to see what they will get. Because you can't take back already sent emails.
Export-Ready Guestlists...
In your guestlist overview, you can simply export your full list or even your list of attending people or a list of people who declined to come in the common knowns format of Microsoft Excel. invite.life makes it easy to continue working after your event.
Explanation for Product Features
To understand the offers to invite.life - Invitation-Management and Guestlist Management - you need to know this. You can buy different packages for our product invite.life for your invitation management for your event. These explanations help to understand the differences.
Additional Form Fields
The standard set for form fields in invite.life is Salutation, Previous Title, First Name, Surname, Postponed Title, E-Mail-Address. Every other field like zip-code, village/city ... is additional.
Sponsored Editions: Adverts in your Invitations
Advertisements we place for the sponsored edition in your landing-page and e-mails contain an information about our product and a third party advertisement. These are placed at the bottom of your page and your mails.
Sponsored Edition

Landing Page
Guestlist Management
Invitation and Infomails
3.000 Mails included
Additional Form Fields
Phone support
Ad-Free
PostCode Extention
Accompanimanagement
Digital Check-In

Get an offer!

Professional

Landing Page
Guestlist Management
Invitation and Infomails
5.000 Mails included
Additional Form Fields
Phone support
Ad-Free
PostCode Extention
Accompanimanagement
Digital Check-In

Get an offer!

All In

Landing Page
Guestlist Management
Invitation and Infomails
10.000 Mails included
Additional Form Fields
Phone support
Ad-Free
PostCode Extention
Accompanimanagement
Digital Check-In

Get an offer!
PostCode-Extension
Invitation via Postal service, registration via web?
With the PostCode extension of invite.life you can generate PIN-codes for your guests and use them for a merge mail via postal service to invite the people. They log in and are still able to do the registration digitally. In the end, you have a database online with all your guests. Combine it with a general QR-code and a 5 digit personal code for every guest and bring the letters to your local postal office. (The 5 digits are only letters, no numbers which increased usability on many popular smartphones.)
In the video: See how the PostCode-extension works for a sample-event.
Accompaniments Management Extension
Manage accompaniments and also additional form fields
With the accompaniment management extension you can, for example, choose which of your guests or people on whole guestlists are allowed to bring how many accompaniments to your event (0 to 20). So you can decide for instance to invite journalists with no accompaniments and your best customers with 3 accompaniments and your team members with only 1 accompaniment. And the system can also ask for more information per attendant or accompanist like name or specific needs, the choice of the menu...
In the video: See the accompaniment management in the system as well as what happens on the screen of your guests with a sample-event we created.
Check-In-Extension
Check-In-System at your Event
A special PIN-code allows your hosts at the reception desk to log in to a special surface. The check-in-surface on invite.life is created with the main focus of easy and quick check-ins. In the back end, you have a live overview of people entering your event and even a detailed static on your dashboard when people arrived.
In the video: The extension Check-In works for your hosts at the reception desk even with a smartphone.
Everything included?
If you want all the extras offered and all the features invite.life has, you need to buy the All-In Edition of invite.life. We give you also more capacity for your mailings and mailing-campaign for your event. And of course, there is no advertising in your emails or on your landing page. Not for third parties and even not for our product itself.
In this case our invite.life All-In Edition is the perfect choice for your needs around the invitation management for your event. You can send invitations via post or use PostCodes in a different way eg. to print invitation tickets for new people you get to know. You can choose for every guest how many accompaniment you allow this person between 0 to 20 and also make your own choice which fields are useful for every additional person even which fields are mandatory.
And you can get all this in a white label edition ad-free for a great price.
All In
Landing Page
Guestlist Management
Invitation and Infomails
10.000 Mails included
Additional Form Fields
Phone support
Ad-Free
PostCode Extention
Accompanimanagement
Digital Check-In
Get an offer!